Botswana: one of Africa's finest wildlife destinations
Introduction to Botswana
The Republic of Botswana invited Adventures Africa to visit and experience one of Africa's finest wildlife destinations. Our founder and CEO, Rick Reichsfeld, and I got to represent the company. We were met at O.R. Tambo International Airport, Johannesburg, by Wilderness Safaris, the host company, and Yandisa, our personal guide, and one of the eco-tourism company's marketing team members for North America. They were happy to lead us into one of Africa's most unique and untouched regions.
Getting there
Flying from Johannesburg (JNB) to Maun (MUB) on the SA Airlink was short and easy. There is time to enjoy a meal and drink, compliments of the small independent airline. Departure was around 11:00 a.m. and we arrived at around 1:00 p.m. Landing in Maun is fine. The airport is in dire need of an upgrade, which is scheduled to happen this year, in 2020.
The walk-through to the airport is between old shipping containers and temperatures are around 95F. We suggest that you have shorts, a light shirt, and possibly flip flops. After passing through customs, Wilderness staff will greet you with warm and genuine smiles, and those smiles stay through the entire trip. Your bag will be tagged and then sent onto your camp. You will pass through security and then be driven to a single turbine 12-seater Caravan airplane.
Flights are short and scenic, and you immediately get the feeling of going into true wilderness. The pilots are very professional, and the safety briefing is thorough, with an information guide in front of every passenger's seat. The first stop ahead was Mambo Camp, a short 25-minute flight from Maun.
Mombo Camp, Okavango Delta
This premiere camp is $3,800.00 per person per night, sharing, during peak season.
Mombo is one of Wilderness Safaris' flagship camps. It is very well known for high profile game viewing. This camp is situated in a prime location within the Okavango Delta on the world-famous Chief's Island. The camp is at the very northern tip of the island, which is ideal for seeing everything from large prides of lions, an abundance of elephants, buffalo herds, a variety of bird species, and leopards. The drive to the camp from the dirt airstrip was 10 minutes. We were greeted by our guide, Zee. All the lodges have very knowledgeable guides with a holistic approach to guests visiting the camps. High profile animals like lion, wild dogs and so on were seen. During game drives, the guides would interpret what the animals were doing then and there, and why, in an entertaining and educational way.
On arrival at the camp, we were greeted by Pen, Karyn and the rest of the team. The lodge was rebuilt some 2 years ago. It has a wonderful Africa feeling, with a sense of "beach paradise" design. Wooden blinds open to reveal vast plains with baboons, impala, elephant, and many more animals roaming in front of you. Very large and spacious rooms allow cool and relaxing breezes to pass through. The rooms cannot be explained with photos or a story. Visit this camp and you will see it is well worth the rate if you can get availability less than a year ahead. An a-la-carte menu is available for all meals. If you fancy something a bit lighter or you need comfort food, you can request a homemade pizza with your choice of toppings. The food is delicious.
Newman, the concession manager, runs a tight but lighthearted team. Baz, a professional with great people skills, introduced us to the wilderness conservation program with a very informative and emotional presentation on human/wildlife conflict. The company has changed areas that were once on the brink of destruction to places that now no person would ever know man had been there. There is a great need for us as humans to help this conservation company. They have highly educated individuals who need more funding to help protect what is left in Africa.
Even with only one night in Mombo Camp, we had two game drives. There are no walking or boat trips at Mombo camp, as this is in a National Park and no walking is permitted at this camp. The first afternoon in the bush was good; we saw some elephants and a rare African Wild Cat. This cat resembles a domestic house cat, with a greyish body and black stripes on the legs, and was spotted by Adventures Africa's CEO, Rick. That afternoon we stopped and had a very dramatic sunset, enhanced with a gin and tonic in hand. The next morning a pride of six lions was seen only 200 yards from camp. Zee, our guide, positioned the vehicle very well every time, where guests were in a perfect position to photograph Africa's unique wildlife. All African wilderness camps will offer a pair of binoculars, a selection of field guides and–wait for it–a camera with a variety of lenses and equipment made by Olympus! These amenities that are on a return-after-use basis are a brilliant idea for travelers. Say goodbye to carrying around heavy camera equipment and binoculars. You get to keep your 16G SD card so you can take it back home and show all your friends and family your "National Geographic" pics.
Overall, Mombo is renowned for the animal sightings and expect to wait at least 1 -2 years before getting availability in this exclusive Africa camp.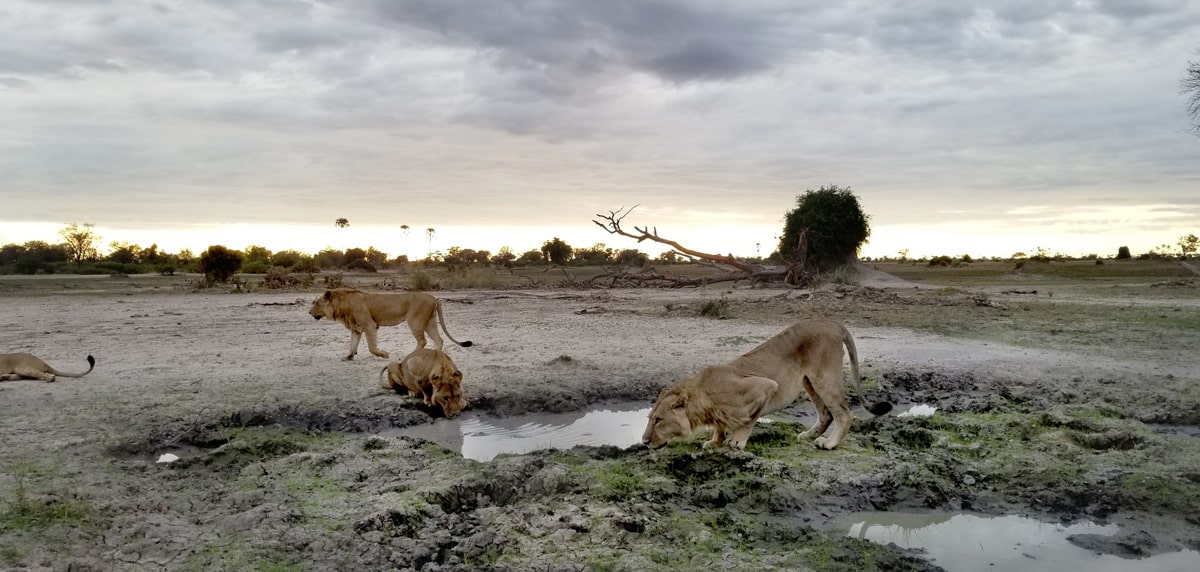 Vumbra Plains, Okavango Delta
This premier Camp is $3,000.00 per person per night, sharing, during peak season.
Rogers greeted us at the water-surrounded airstrip in the North-Eastern part of the Okavango Delta. This part of the delta has more water around the area than that of Chief's Island. During the summer months (Dec-Apr) which is the rainy season, the delta is in fact low. Low in terms of the water running in the channels. There is still rain, which is much needed for the flora. Wintertime (Jun-Aug) is when the water reaches the world's largest delta. Rogers, our guide, was very experienced. Experience plays a vital role in the "Wilderness Way" Wilderness Safaris has a great company ethos when training staff. It's done so that everything starts from the top and flows down to the newest employees. What this means, from the CEO to the room cleaners, is that everyone is on the same level in terms of family. Family is the key word here. At every camp, we felt immediately as if we were a part of the Wilderness Family. Our guide Rogers, who has been with Wilderness Safaris for "donkey's years", fulfilled every guests' expectation. I was, myself, a guide for over a decade, and this is one of the key functions I personally look for in a guide when going out on a safari. Rick wanted to see an aardvark, I wanted to see birds, our other two colleagues wanted to see cheetahs and wild dogs. None of these requests were considered farfetched. Heading into the bush in Vumbra was like leaving the world as we knew it. We saw a bird endemic to the Delta, a slaty egret. One of the sights that most safaris have never seen is a red-crested Korhaan doing its mating display—but we watched in at Vumbra. And although Rick wanted to see an aardvark, we did spot see this nocturnal creature, but Rogers pointed out numerous tracks and created the anticipation that we may see one around every corner. After tracking wild dogs in an area for over 4 hours, they were then spotted in a jackalberry forest, and we spotted a cheetah with two cubs under some trees in the woodland areas. Every aspect was covered. This lodge has the traditional makoro (dug out canoe) activity in the delta, you may have a chance to spot the rare Angola reed frog and some other spectacular plants like the water lilly.
Our lodge overlooked water filled with reeds and dead trees that goes on for as far as the eye can see. Each room has a plunge pool and is designed in a comfortable bush-to-contemporary feel. The staff celebrates a local meal and local traditions with the guests every Monday. First dancing and singing for guests, then the table is filled with local cuisine suitable for any hungry tummy.
The Vumbra staff is fantastic. Rob from the conservation team sat with us during dinner. Rob explained the local ecology and how the small vertebrates have a huge impact on the ecology of the Delta. There are some 140 species of dragonflies in the delta, with many unique amphibians and other important ecological species. The Delta is under threat by foreign countries setting up agricultural schemes to support their own demand for produce. These foreign countries convince third world countries like Angola, Namibia, and Zimbabwe that they need dams and hydroelectric schemes to increase their economy's GDP. Foreign countries offer to build dams and hydroelectric plants in exchange for farming rights and natural resources, but don't explain the actual impact this may have down steam on local people, fauna and flora. The delta is under threat due to the damming of its water source in Angola. Wilderness Safaris is on top of this, monitoring and convincing governments of the value of the expanse of wilderness that can be seen from space.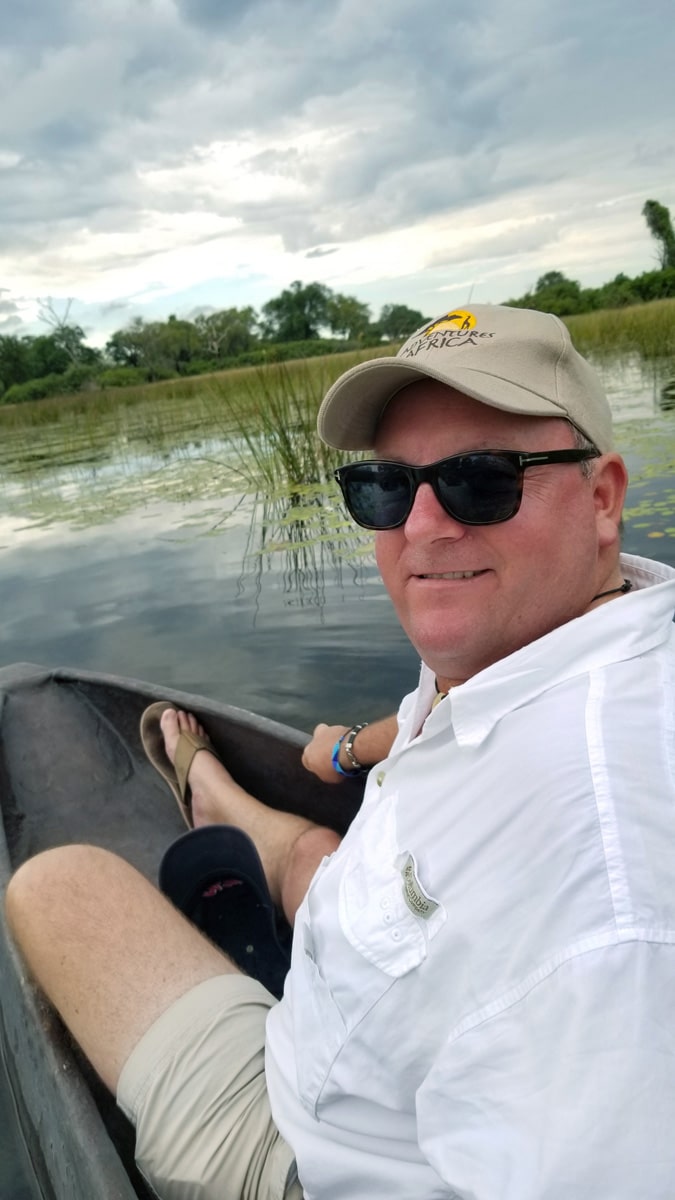 Savuti Camp, Linyanti
This Classic Camp is $1,643.00 per person per night, sharing, during peak season.
Savuti Camp is part of the classic camp network at Wilderness Safaris. We were greeted with open arms and big smiles. The staff are exceptional. It is more of a rustic camp with thatch roofing, buffet-style cuisine, and limited luxury amenities. This most certainly does not take away any of the glamour behind this remote camp. The camp is located on the Savuti Channel and is well known for Sable, Roan and good predator populations. The camp is open year-round, however, the best time to visit this camp is during June, July, August, and September. The team was extremely welcoming and friendly like all the other camps. Wilderness Safaris prides itself on leading from the front. The "family feeling" is there 24/7. We spotted some incredible wildlife with our young, enthusiastic and knowledgeable guide Keith. We spotted a serval at night, a rare find and some birds of prey such as bateleur eagles, tawny eagles, and many more species. If you are looking for a luxury style camp, the newly renovated King's Pool Camp is well built with individual plunge pools, a premier selection of drink,s and stylish rooms. These camps are about 1 hour away from the dirt airstrip.
What we think of Wilderness Safaris
This luxury brand, located in remote areas of Africa, are true ambassadors of eco-tourism. The company has been operating since 1983 with over 40 camps in 7 countries. They employ over 2000 people and have conserved and restored millions of acres of areas under threat by human habitation.
All camps are carefully designed to cater to all individuals whether you are looking for a high-end luxury experience or classic safari vacation. Staff members are caring, welcoming and professional.
The "Wilderness Way" is to develop individuals in communities by educating, empowering, and creating opportunities within each staff member's strength. Every year staff members are given an opportunity to voice concerns and to explain to team leaders what sector they may want to grow. It's an incredible initiative from this company. To quote Sir Richard Branson, "Train people well enough so they can leave, treat them well enough so they don't want to"
Camps are in areas that have almost no human evidence. All the camps we visited are so remote, yet accessible by small aircraft. There is absolutely no light pollution, no distant noises of road or traffic.
Things that are a Must Do
Safari twice a day or all day. If you feel like doing a whole day safari, your safari guide and lodge managers will be more than willing to accommodate this activity.
A bush walk, depending on the camps' additional activities, lodges such as Mombo do not offer bush walks as it is situated in a national park.
A helicopter flip, THIS IS A MUST! You will get a true sense of how far from human habitation you really are. The most exciting part is seeing wildlife from low altitudes. We spotted bush pig, Sitatunga, and hippos.
Photography lessons. Each camp is equipped with loaner cameras. These cameras are excellent. During the day kindly ask one of the guides to show you some tips and tricks.
A mokoro trip. Explore the water of the delta up close.
Travel Advice for Botswana
These locations are situated in Malaria areas. Consult your travel doctor before heading to these places.
Make sure you take sunscreen and apply regularly.
Have a good baseball cap or a full brim hat. Make sure you go on every safari with a sweater or windbreaker.
Baggage allowance is limited to 33 lbs. per person. Your bags should be soft cased.
All the lodges provide a complimentary laundry service so limit the number of clothing items but pack enough underwear.
Wi-Fi is limited to your rooms and is not available in common areas.
TIA – This is Africa, relax and enjoy the laid back Africa way